Oak Frames
textchunk0
textchunk1
textchunk2
textchunk3
calloutchunk6
textchunk7
textchunk4
calloutchunk7
textchunk8
Oak-framed homes
Oak framing is a time-honoured building system which has enjoyed a relatively recent revival and is now a firm favourite with selfbuilders.
Oak-framed houses have long been admired for their beauty and structural integrity, and building a new oak-framed home offers the perfect compromise, combining modern building materials with the instant character provided by exposed beams and timbers. Modern technology enables designers to utilise the appearance, strength and solidity of the frame to its full effect, creating open-plan living spaces without the need for internal structural walls.
Oak is a slow-growing wood with a tight grain which makes it durable, strong and a natural insulator. In fire, a protective layer of charcoal forms around the outside of an oak beam, delaying damage to the core, and most oak frames are sturdy enough to withstand the ravages of a tornado. At least a 200-year lifespan is an achievable target for a well-designed oak frame and, ultimately, it will bio-degrade when eventually redundant.
An oak frame can be tailored to suit different styles, from the traditional cottage, to more contemporary designs which include large vaulted interiors and expansive sections of glazing.
Design
While the carpentry of frame design was already highly developed by the mediaeval period, other modern technologies such as insulation, glazing and frame infill techniques now far outperform their historic counterparts. Oak's versatility can be exploited in great open-plan spaces, soaring vaulted ceilings, galleries and atriums, adding to the sense of drama.
Vaulted ceilings work well in oak-frame structures. Here the timber truss is left partially exposed along with the gable end brick wall to create a semi-industrial look.
Many selfbuilders are unaware just how flexible the design service offered by oak-frame companies can be. They assume that they will have to build one of the standard house types shown in the brochure, but these tend to be a sales aid designed for guidance rather than a limited selection.
Oak-frame companies offer a portfolio of designs which can be adapted to create individual properties, and many have in-house designers and architects who will produce bespoke plans and elevations, including detailed drawings for Building Regulations. It is possible to build contemporary homes around an oak frame, and if a structural engineer specifies additional steelwork to reinforce the building this can be concealed within an oak beam.
Alternatively, traditional frames are based upon the design and style of the vernacular oak frames found in English towns and villages.
There is no county in England without examples of oak framing, and this can sometimes be extremely useful in persuading planners to grant planning permission.
A popular option is the barn-style oak frame, which combines the contemporary and the vernacular. The essential difference is that the beams are not generally exposed externally. These buildings invariably have a more open-plan feel, with fully vaulted roofs, and the heavy oak frames are well suited to accommodating large areas of glazing.
Some package companies will undertake everything from gaining planning permission and erecting the frame to organising subcontractors and completing the entire project on your behalf. Others will simply design, supply and erect the oak frame, leaving the selfbuilder to organise everything else.
Production
Many oak-frame companies continue traditional framing techniques, passed down through generations, with hand tools still very much in evidence. Others favour fast, computer-controlled cutting machines.
The timber is used soon after it is felled so that the green timber is easy to cut and work into the desired shapes. Green, unseasoned oak is traditionally assembled with classic wooden pegged mortise and tenon joints, and the timber continues to contract – tightening the joints to give a uniquely strong structure which will last for centuries.
Modern oak frames are usually cut using high-tech computerised machinery, but the frame itself is assembled by hand in a framing yard before being disassembled and taken to the site for re-erection.
The finished building will need to incorporate air barriers and flexible gaskets in order to meet Building Regulations. It is important to find out the lead-in time for your oak frame because these can vary enormously depending on how busy the suppliers are, your frame size and other issues.
The Build
Foundations must be accurately completed before the frame can be delivered, so ensure you leave plenty of time for unforeseen problems at this stage. Oak frames need a level surface, and poorly built foundations are a frequent problem for all types of timber frame, so it pays to employ experienced groundworkers.
Make sure that site access will not prove a problem for a crane, which may be required to winch the huge trusses and cross sections from the lorry.
Erecting the frame will then usually take between a few days and several weeks to complete.
Once the frame has been built the timber stud infill panels and insulation can be fixed in place, and the shell clad with materials such as brick, stone, weatherboarding or render.
Structural Insulated Panels (SIPs), manufactured in a controlled environment and shipped to site ready for erection, are a modern alternative to a timber stud wall. They consist of an inner insulating core of expanded polystyrene (EPS) sandwiched between two outer skins of oriented strand board (OSB), and provide high levels of thermal efficiency. See SelfBuild & Design Guide to SIPS
Costs
Oak framing is often seen as an expensive housebuilding option, with oak costing at least one-third more than other timbers.
In general, though, using oak will only increase the overall cost by between 5 and 10% and the simpler the design the less expensive the frame. Resale values are high.
There are ways to reduce costs and ensure that you get maximum value from the exposed frame without breaking the bank.
One option is to combine an oak frame with a less expensive form of building, such as blockwork and areas of softwood framing. By building just one section of a house using an oak frame you can benefit from all the advantages of the wood in prominent areas like vaulted hallways and sitting rooms. Known as 'hybrid', this method is ideal for those on a more limited budget who wish to feature some oak within their home.
Whether renovating or building from scratch, it is recommended that you use traditional materials such as lime mortars and plasters, which allow for minor building movement. Hydraulic lime mortars are particularly useful in timber-frame buildings because their excellent vapour exchange properties minimise rot and damp while providing good weather resistance.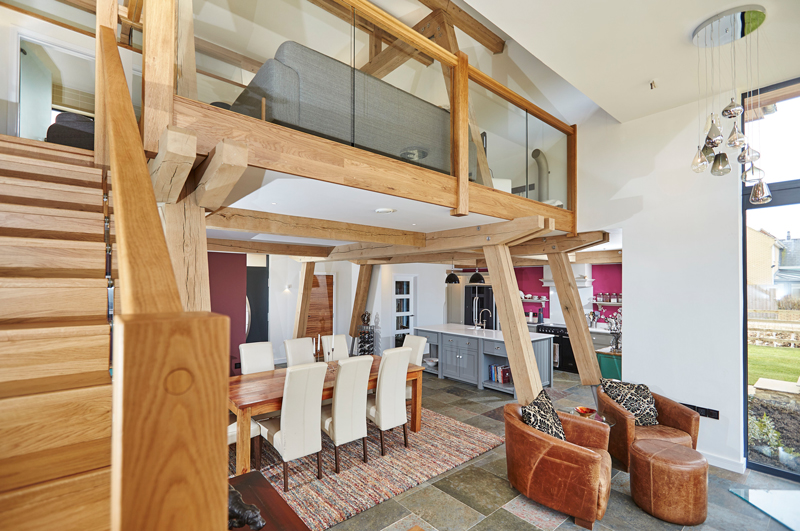 These two contrasting interiors demonstrate the versatility of an oak frame. In the above example, the open-plan interior has a modern feel, while the barn-style interior (below) is more traditional.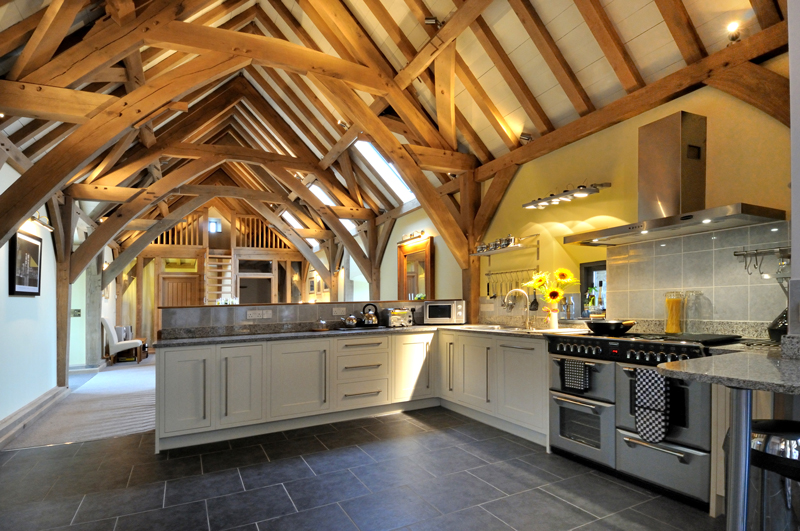 Exposed Oak Frames
It is possible to build externally exposed oak frames that meet and exceed Building Regulations. Additionally, encapsulation systems have been developed which completely insulate the frame externally, minimising the cold bridging effect of the timbers and providing a draught-free environment. Several oak-framing companies have developed their own prefabricated encapsulation systems
Most well-made, exposed oak frames with the proper detailing perform exceptionally well on airtightness tests.
Oak, unlike many other timbers, does not require preservative because the wood is naturally resistant to insects and weathering, although the frame can become marked from the natural tannin in the wood. These marks and other stains from the building process can be removed by sanding or using oxalic acid once the frame has been built.
Afterwards
Untreated oak weathers to a silver grey colour externally, while remaining deep golden inside. As the oak seasons it hardens to a nail-bending density, which is why carpenters tend to work the wood while it is fresh and unseasoned. Oak is described as 'green' when it has been felled only a couple of years and the timber still has a high water content and is not dry in the middle.
It then takes between five and 10 years for an oak beam to dry out completely and season
This process often results in shrinkage and movement – a factor which can alarm homeowners. As the oak dries and shrinks, the process creates minor splits or 'shakes', which are all part of the building's charm but can cause a few creaks and groans to emanate from the timbers.
For oak to rot there must be a serious damp problem, as moisture passes through wood unless covered in materials such as cement render.
Restoring Old Frames
Timber-framed buildings are totally functional. Every component part of the frame serves a purpose in taking a load or a stress to keep the whole structure in equilibrium, which is why the members of a frame should never be removed or cut through. Apart from destroying the completeness of the structure this disturbance will set up new stress patterns and may cause settlement, cracking of finishes or infill panels, failure of other members and serious instability.
It's therefore essential to understand how your building works and to remember that it is a framed structure, with its forces and loadings carried on the comparatively slender timber members of the frame. If you are repairing a timber-framed building you are strongly advised to seek professional help as it is not a job for an amateur. The Society for the Protection of Ancient Buildings advises that it is only necessary to disturb the timbers of an old oak-framed building if it is absolutely vital to ensure the survival of the building. Gentle, sensitive repairs will ensure that the oak timbers retain their character.